Every living body is shaped perfectly with natural processes going on in them every day. We work hard, eat food, digest it, pump oxygen in and out of the body, and do other such daily chores to meet our requirements. Sometimes, things turn against our favor when a foreign particle attacks and invades a body. These can be tiny microorganisms called germs.
Germs are the microscopic invaders that hold our body to make it ill or diseased sometimes leading to even death. Hence, they are called microorganisms that are never observed with the eye. After entering a particular living body, a germ of any kind will start showing its symptoms without you being aware of it, eventually leading to infections. So, let's talk about the general types of germs before we discuss how they look under any microscope kind.
Types of Germs
There are millions and trillions of germs present around the globe. Numerous are discovered, and research continues for several germs. Generally, we classify germs into four chief types, including bacteria, viruses, protozoa, and fungi.
Bacteria
These unicellular microorganisms arrange their food from the surroundings. Most of the time, they prefer invading human beings to live a long life, thus inducing harmful infections. A bacterium can be infectious or non-infectious, but as we're studying germs, we'll only discuss the former. When entering a body, these germs can cause severe ear infections, cavities, sore throats, pneumonia, etc. In contrast, if we slightly glance at the good bacteria, many help a body run its routine mechanisms. For example, Escherichia coli is a bacteria that aids a body in digesting food, but these wouldn't fall under germs then.
Different Bacterial Shapes
When bacteria were observed under a microscope, we see that these germs exist in diverse shapes which we will explain below. Such germ shapes differ based on their physical properties.
Cocci
The most prevalent of all types of bacteria are the cocci. These are spherical-shaped pathogens that usually appear in the form of groups. According to a study, almost one-third of bacterial infections are due to these attacking cocci. For example, food poisoning occurs due to the bacterium cocci. Similarly, otitis media, pneumonia, meningitis, and several such diseases transpire due to cocci infection.
Bacilli
These rod-like bacteria are also present in groups and almost every part of a body. By now, anthrax is considered the top infectious disease by a bacillus germ, but there are a lot more on the list! A bacillus also results in endocarditis, abscesses, wound infections, bacteremia, peritonitis, meningitis, etc.
Spiral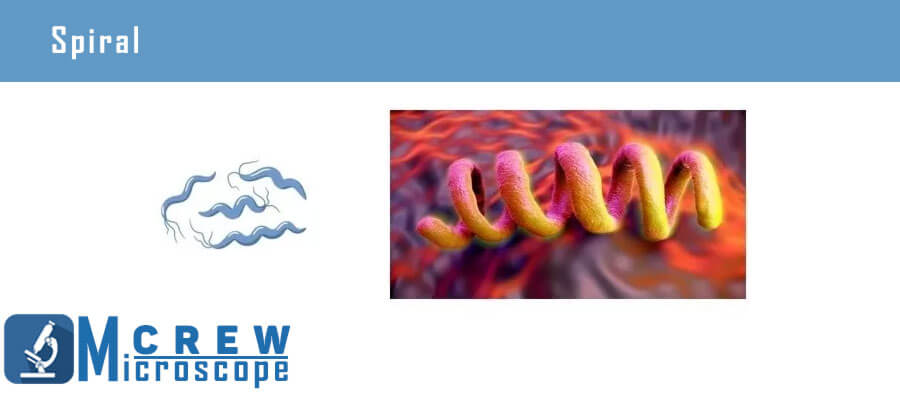 The name indicates the shape of bacteria. These are spiral-like microorganisms, also called spirochetes, which are flexible enough to damage a human body. When a spiral pathogen attacks a body, it can cause numerous dangerous infections like yaws, syphilis, relapsing fever (transferred through ticks and lice), Treponema, and much more.
Viruses
Viruses are the most harmful of all the microscopic germs, causing lethal infections and diseases. Who is not aware of the ongoing pandemic due to covid-19 (coronavirus)? These species do not survive outside a host cell and always want a body to sustain their lives. Whenever a virus enters a body, it causes infections/diseases, where flu (influenza virus) is the most common. Other examples of virus germs causing infections include measles, chickenpox and etc. It is the same as coronavirus infecting lungs.
Protozoa
These are the unicellular germs, similar to bacteria but a bit larger than them. These water-loving germ cells are seen with a distinct nucleus and other structures when observed under a microbiological microscope. Many protozoa cause infections, resulting in pains like belly aches, nausea, severe diarrhea, amoebic dysentery, African sleeping sickness, etc.
Fungi
These microorganisms consist of a wide variety of organisms. Fungi are multicellular and unicellular microscopic entities that can possibly be harmful. Many fungi reproduce as hyphae that are usually cylindrical. So when observing a fungus under the microscope, you'll encounter a thread-like, tubular structure. These cells are lethally infectious to a living body, causing diseases like jock itch, athlete's foot, yeast infections, ringworm, etc.
Some Germs under Microscope that cause diseases
Above is the image of a virus called the Ebola virus. It is known to induce high fever and intense internal bleeding in a human being. It can sometimes be lethal to death.
Above is the image of clusters of bacteria called Borrelia burgdorferi, which develops Lyme disease in humans. These types of germ cells fall under the Spirochete/Spiral class of bacteria. Human beings are prone to such bacteria through ticks.
Above is the magnified image of free-floating protozoa through an electron microscope that cannot be seen under an ultramicroscope. It is termed Giardia, well-known to cause diarrhea in humans. Most of the time, Giardia is spread when continuously drinking contaminated water.
Above is the enlarged image of coronavirus, also called covid-19, due to the strains of the virus in it. These germs are lethal to health and can transmit from individual to individual. Coronavirus rapidly affects the lungs through an overactive immune response leading to inflammation and death.
Prerequisites to Observe Germ Cells under a Microscope
Although several necessary microscopic pieces of equipment are needed to examine germ cells, lenses are the most important! An observer must have a set of two lenses in his compound or electron microscope, such as:
Objective Lens: It is the lens nearest to the slide stage, essential to produce a magnified image.
Eyepiece: Another lens closer to your eye is the eyepiece lens that further helps to enlarge an image.